58 chemical enterprises in the global top 2000 enterprises!Hengli, Wanhua, Rongsheng and Hengyi are on the list
08-07-2020
On May 13, Forbes released its list of the world's top 2000 companies in 2020. Industrial and commercial bank of China topped the list for the eighth consecutive year. China construction bank ranked second. Jpmorgan chase was no. 2 last year, while other companies in the top 10 included Berkshire hathaway (no. 4), agricultural bank of China (no. 5), Saudi aramco (no. 5) ping an of China (no. 7), bank of America (no. 8), apple (no. 9) and bank of China (no. 10).
A company needs a market capitalization of at least $5.27 billion this year to be considered for inclusion. That's down from $6.25 billion last year.
In 2020, the companies on the list will have revenues of $42.3 trillion, profits of $3.3 trillion, assets of $201.4 trillion and market capitalization of $54.3 trillion. Sales and assets were higher than last year, but profits and market capitalisation were lower.
Across the world, the United States has the largest number of companies on the list, 588; A total of 367 Chinese companies made the list, with 266 from the mainland, 58 from Hong Kong and 43 from Taiwan. Japan, the UK and Canada each had 217, 77 and 61 companies on the list.
A total of 12 Chinese petroleum and chemical companies made the list, including petrochina, sinopec, cnooc, hengli group, Formosa petrochemical, wanhua chemical, taihua, South Asia plastics, Formosa plastics, rongsheng petrochemical, hengyi petrochemical and tianmao group.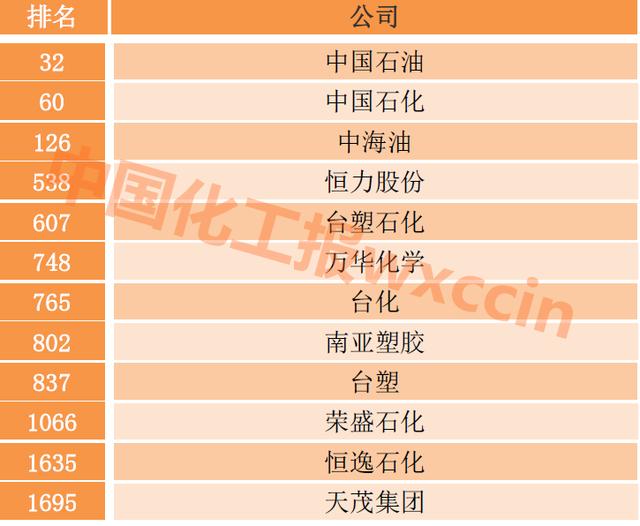 There are 58 chemical companies in the top 2000. Basf leads the pack at 107, down eight places from last year. Lind rose sharply to no. 178 from no. 219 last year. Saudi Arabia ranked 212th in basic industry, down 99 places from 122nd last year.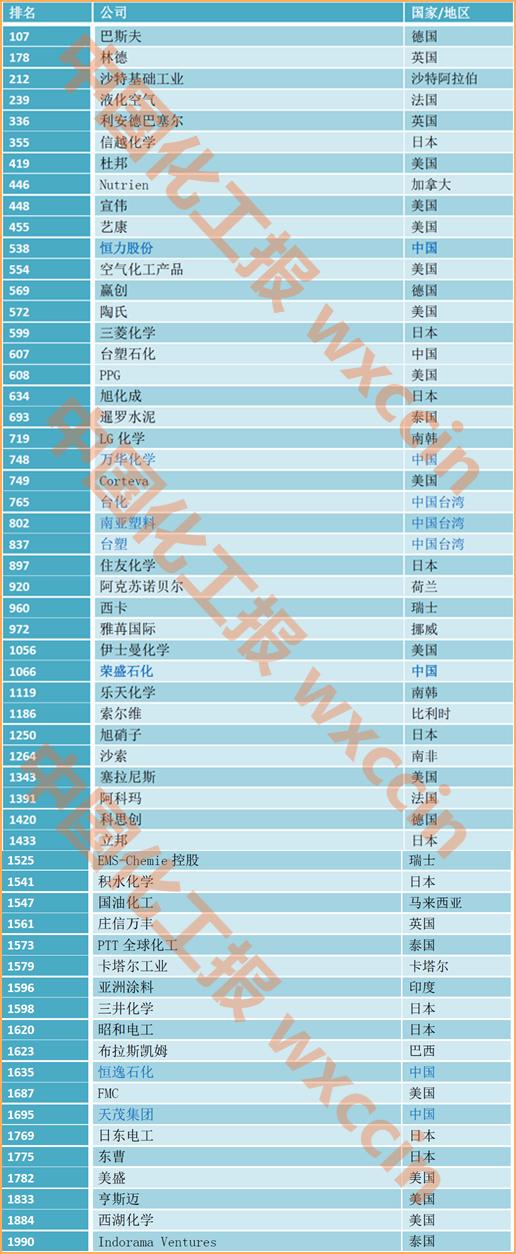 Forbes' annual list of the world's top 2000 companies is now in its 18th edition. The list takes into account the market value, sales, profits and assets of companies listed on the list. The calculation date of the price is 30 April.